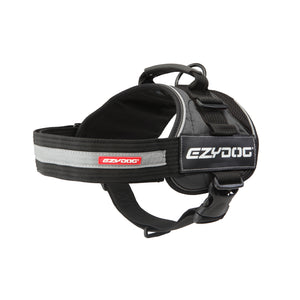 Convert Harness (On Sale)
₱1,95000

₱1,950.00

Save ₱1,350
---
---
The Urban Utility Dog Harness

Our Convert Dog Harness is the most versatile Dog Harness on the market and you can take it just about ANYWHERE! Just clip it on and you and your furry companion are ready to go.
Built for the Outdoors
The EzyDog Convert dog harness is built to last - it is super durable, strong and also soft on your dog. If your dog loves the outdoors and does not want to be limited in anyway by their harness, then this is the perfect solution. Because the load is distributed across the dog's chest and around the sides, it does not pull against the throat like a standard collar does. Durable materials and innovative construction helps to ensure a safe and secure fit. Like all our harnesses, it is finished with a stainless steel D-ring that will not rust and features a soft-touch, magnetic traffic handle for when you need close control of your dog.
Features  
Durable polyester outer shell
Soft cotton lining keeps your pooch comfortable and happy
Fully adjustable chest strap provides a snug, secure fit
Disable with one click
Rust-proof welded D-ring provides a secure anchor for leashes
Soft touch traffic handle gives extra security when needed
The only harness that works with Ezydog's Convert Custom Side Badges
Color Options: Charcoal, Burgundy, Gold
Size Options: XXS, SX, S, M, L, XL
Note: Not all features are available on smaller sizes: XXS/XS
Extras to 'Convert' Your Harness to Fit Your Needs
Saddle Bags
The EzyDog Saddle Bag set transforms your everyday Convert Harness into a handy dog backpack. With its heavy duty construction that is both waterproof and durable, your dog can go anywhere and hold anything. When you want it back as a harness, simply detach the Saddle Bags.  
Removable Side Labels
To personalize your Convert Harness, we also have a multiple selection of removable side labels. These velcro labels attach on to the side of your Convert Harness to replace the standard EzyDog logo. With over ten designs to choose from, there will be one that is sure to fit your dog's your personality.
Convert Harness with Saddle Bags 
NOW GO AND PLAY!
Size & Fitting Instructions
For best fit measure the girth of the dog. This is the area behind the front legs and around the body. The neck will typically fall into place once girth is determined. If the measurement is close to the end of the size range, go up to the larger size.
| | | |
| --- | --- | --- |
| Size | Girth (cm) | Girth (inches) |
| 2XS | 38 - 43 | 15 - 17 |
| XS | 42 - 53 | 16.5 - 21 |
| S | 52 - 66 | 20.5 - 26 |
| M | 62 - 79 | 24.5 - 31 |
| L | 70 - 90 | 27.5 - 35.5 |
| XL | 80 - 110 | 31.5 - 43.5 |
| 2XL | 86 - 116 | 34 - 45.5 |
Fitting Instructions
1. LOOSEN THE CHEST VELCRO STRAP
2. PLACE THE HARNESS ON THE DOG
3. ADJUST THE CHEST STRAP SO THAT THE HARNESS IS POSITIONED COMFORTABLY BEHIND THE DOG'S FRONT LEGS
4. CLIP THE GIRTH STRAP TOGETHER AND ADJUST SO THAT IT FITS SNUG BUT NOT TOO TIGHT
TIP: KEEP THE CHEST STRAP A LITTLE LOOSE SO THAT THE GIRTH STRAP DOES NOT PULL INTO YOUR DOG'S LEGS
IMPORTANT: DO NOT OVER-TIGHTEN STRAPS! WHEN FITTED CORRECTLY, HARNESS SHOULD BE SNUG, BUT TWO FINGERS SHOULD EASILY RUN BETWEEN STRAPS & DOG.